Sky's blocking options
In other words, those customers who don't opt out from the 'porn filter' will also have file-sharing sites and services blocked. A quick round on the internet reveals that this category is rather inclusive, and not limited to 'pirate sites.'
Among the blocked sites are BitTorrent.com, who work with Madonna and other artists on a regular basis to release free-to-download content. The same is true for other BitTorrent clients including uTorrent, Transmission and Vuze. Tribler, which is developed at Delft University of Technology with EU taxpayer money, is filtered as well.
Websites which offer perfectly legitimate content via P2P downloads are also filtered by Sky's default settings. This includes VODO, the distribution platform for indie filmmakers, the download page of the Linux-based Fedora, as well as the download portal Linuxtracker.
In addition, several websites that merely write news about file-sharing issues are blocked by the filter too, including TorrentFreak.
TorrentFreak blocked by Sky's filter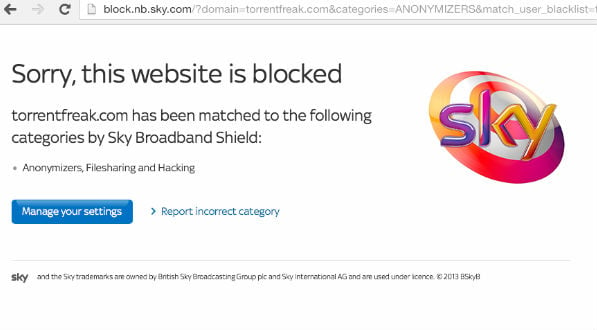 According to Sky, the decision to extend the filter beyond porn and other adult content was partly made based on input from subscribers.
"Our customers have told us they want the option to control the content that enters their homes. As part of this, they have also told us what sort of content they would like included in Sky Broadband Shield," a Sky spokesperson told us.
The provider further points out that account holders have the option to turn the filter off or allow certain sites to be unblocked.
"We know that no single setting will suit everybody, so our product allows customers to make their own decisions about individual websites, overriding the pre-defined categories to unblock a particular site if they wish. This gives any Sky home the ability to fully customise their filters."
The question is, however, how many people will be familiar with this unblocking option. There is little doubt that the filtered sites will see a drop in visitors, which may become problematic when more and more providers employ similar filters by default.
TorrentFreak spoke with the Open Rights Group (ORG), who have been very critical of the filtering schemes in the UK. According to Executive Director Jim Killock, Sky is not the only problem here, as other UK ISPs employ overbroad blocking schemes, including the older mobile network filters.
"Most of the filters seem to encourage parents to block anything that is related to anonymizers, hacking and filesharing. In short, the filters seem to adopt a strategy of stopping under 18s from learning how to do anything useful with a computer, in case that helps them get round blocks," Killock says.
ORG stresses that the filters may prevent young people from learning much-needed computer skills, which could eventually hurt the local computer industry.
"It could damage the learning of a generation, and the competitiveness of the UK computer industry. Computer related websites and discussions should always be available to young people as it is part of their right to an education."
To find out what is being blocked exactly, ORG has been building its own checking tools, as well as a website where false positives can be reported.
Whether anything can be done against the overblocking and false positives that are reported remains to be seen. For now all legitimate file-sharing services and sites remain blocked, including the article you are reading right now.
Source: TorrentFreak, for the latest info on copyright, file-sharing and VPN services.